Tribord room for luxurious holidays on the edge of the Mediterranean.
Europe hotel La Grande-Motte
Between Camargue and Mediterranean

Tribord room
Softness and comfort !

For a weekend, a week or more, come and partake in good times at the hotel and the seaside. There is a cruise-like atmosphere here from the lounge to the garden and on every floor.

The Tribord (Starboard) rooms with a southern exposure have a balcony, terrace or cosy sitting area.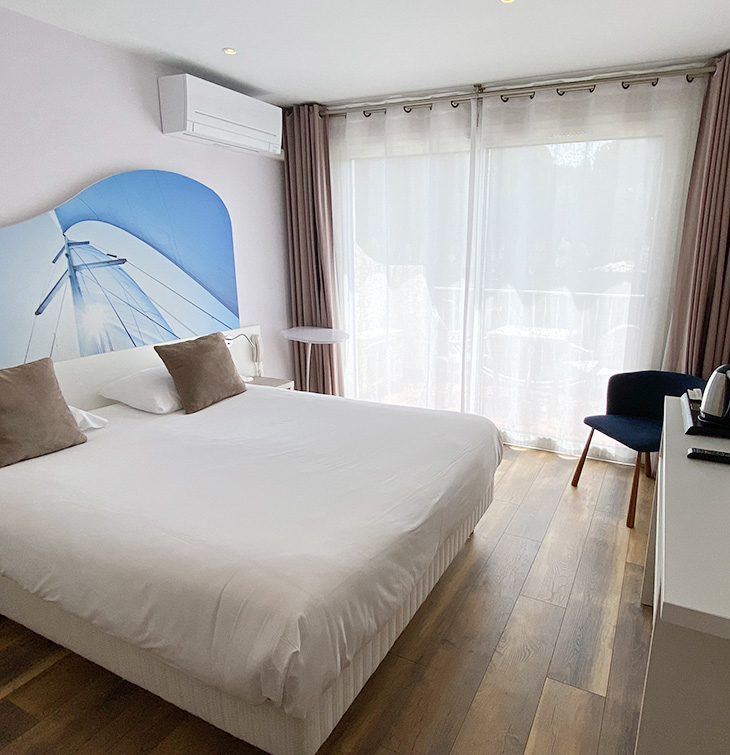 Facilities & Services
Tribord room facilities and equipments


Air Conditioning
Reversible air conditioning

Room Safe
Room Safe

Hairdryer
at your disposal

Frontpage
Welcome tray

WIFI
Free WiFi

Mini bar
Mini bar at your disposal

Bathroom
Bathtub

Terrace
Balcony or terrace or cosy sitting area

TV
Flat-screen TV

Phone
Direct-dial Telephone
Other accommodations
In La Grande-Motte, between Camargue and Mediterranean